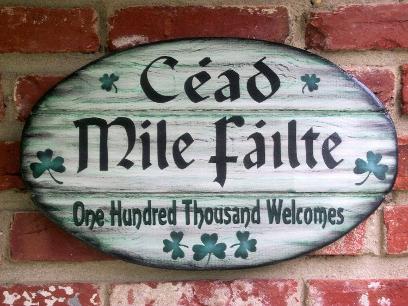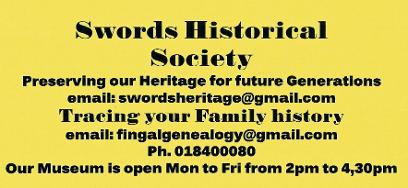 Swords Memories 1991, (Swords Oral History Project )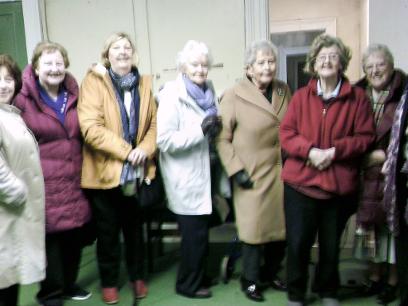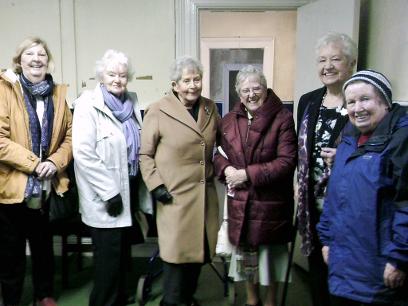 River Valley Active Retirement Group keeping up with tales of
'old Swords' when they visited Swords Historical Society.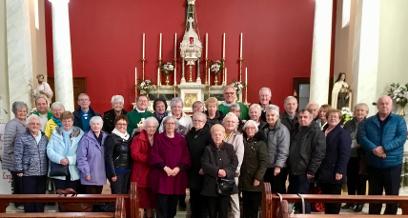 Group from St. Colmbkille's Church, Rutherglen, Glasgow,
attending Mass at St. Colmcille's Church, Swords, Oct. 2018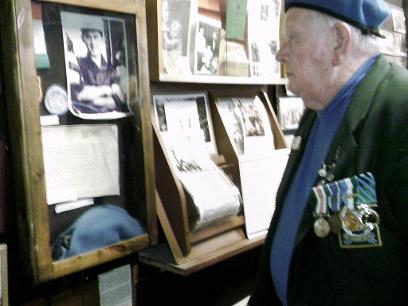 Mr Thomas Kenny a veteran of the Niemba Ambush,Congo, visited Swords recently where he was interviewed for our Oral History Project.
Seen here with the photo of Matthew Farrell in Swords Museum. Swords man Matthew was killed in the same confrontation.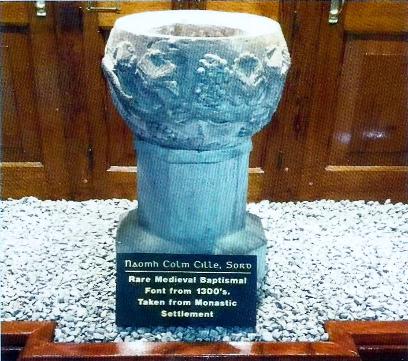 Medieval Baptismal Font at St.

Colmcille's

Church,
Swords, Co. Dublin.
The Launch of Swords Voices, 25th Edition There was a capacity attendance in the Atrium of the County Hall, Swords on Wednesday, 5th September for the launch by the Mayor of Swords, Councillor Anthony Lavin, of the 25th edition of Swords Voices, the very popular compilation of stories, prose and poetry which was initiated 25 years ago by Bernadette Marks. Among the topics covered in this year's edition are The Longs of Milton, A Seatown Childhood, My Swords, Our New House in Glassmore, Cremona, I'd love to be at my own Funeral (poem), and an account of an interesting school tour. In his very complimentary remarks, the Mayor congratulated Bernadette Marks on the wonderful commitment which she has shown to ensuring that the history of Swords and surrounding districts is chronicled and made available to as wide an audience as possible. He also commended the participants in the short story and poetry competitions, and he presented prizes and certificates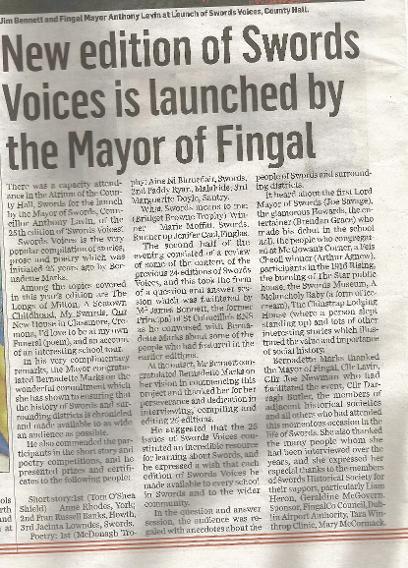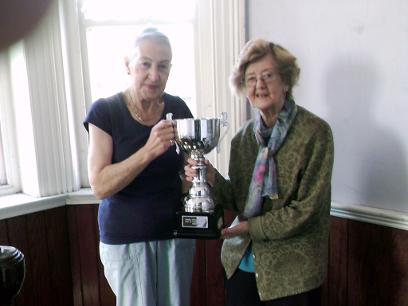 Aine Ni Bhruaidair, winner of Poet of Fingal Contest 2018.
for the McDonagh Trophy.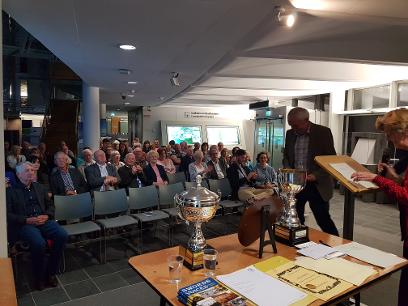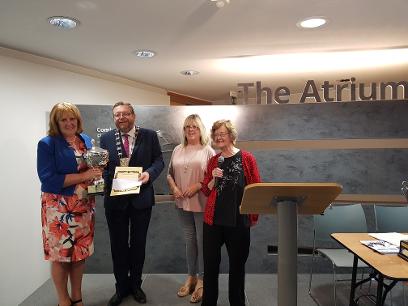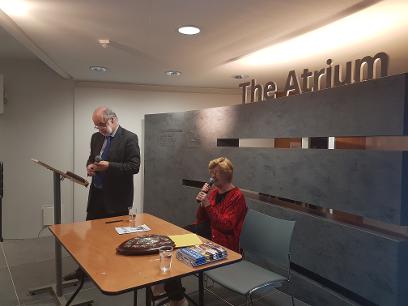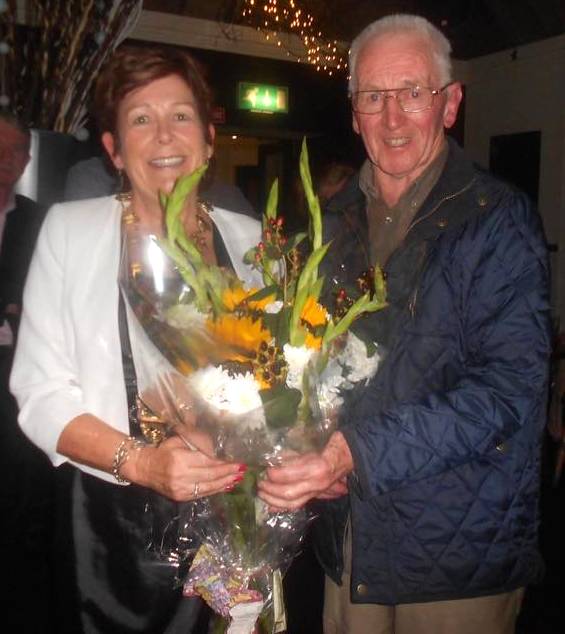 Launch of Swords Voices 2017 by Mayor of Fingal, Cllr Mary McCamley,
at the Lord Mayor's, with Liam Heron, Swords Historical Society.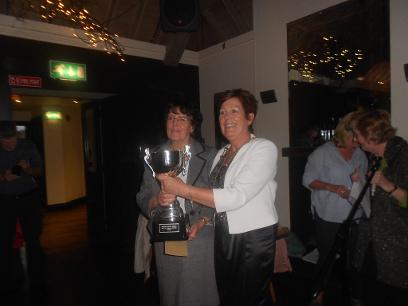 Winner of Poet of Fingal Competition, Pauline Giffney, Killester,
Mayor of Fingal presenting McDonagh Trophy.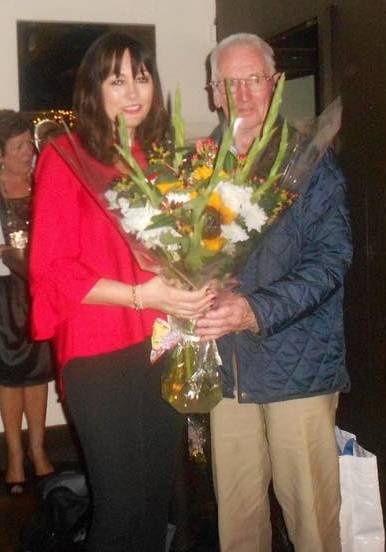 Maria Hoey, who won our Short Story Contest in 1995; now
has her own book published. With Liam Heron. at launch.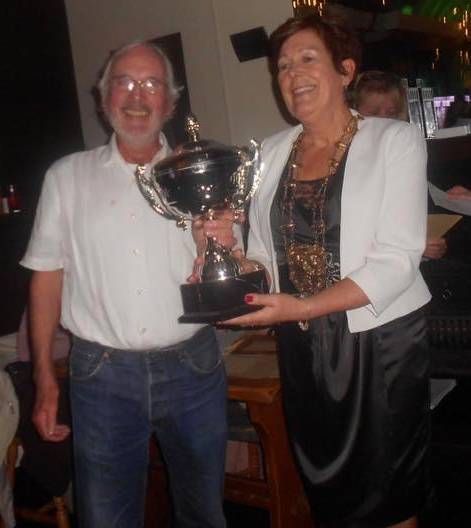 What Swords Means To Me Contest; Winner Joseph Smith,
receives The Bridget Browne Trophy from Mayor of Fingal.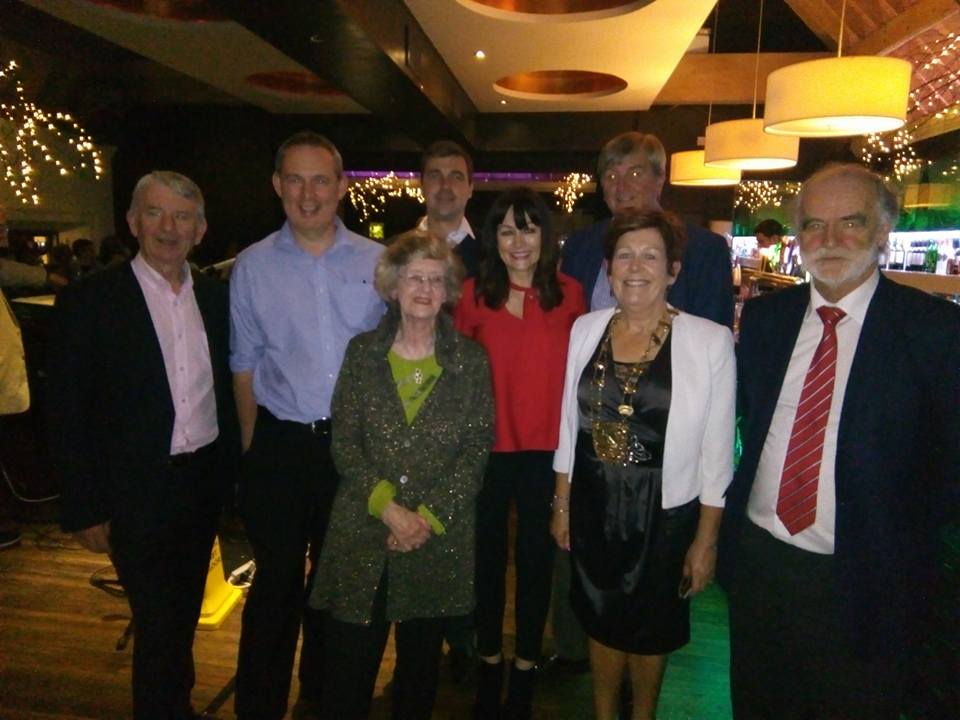 Cllrs Joe Newman, Darragh Butler, Duncan Smith, Brendan Ryan TD, Berni Marks,
Maria Hoey, Mayor of Fingal and Mr James Bennett.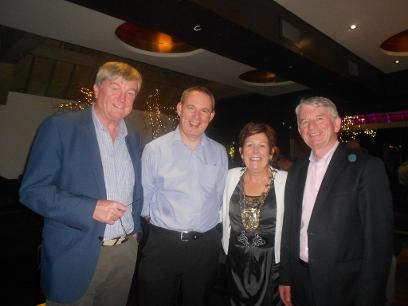 Enjoying the Night, Brendan Ryan, TD, Cllrs Darragh Butler, Mayor of Fingal,& Cllr. Joe Newman.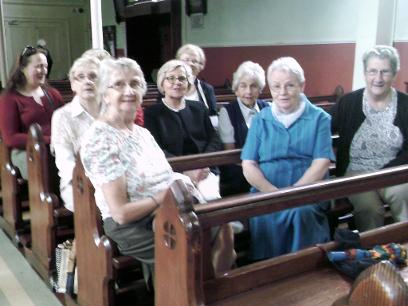 Stories From The Plaques, Talk with Swords Historical Society
for Heritage Week 2017, at St. Colmcille's Church.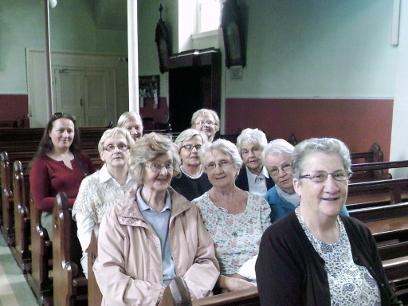 Enjoying the Stories from the plaques at Sr. Colmcille's Church, Swords,
Heritage Week 2017..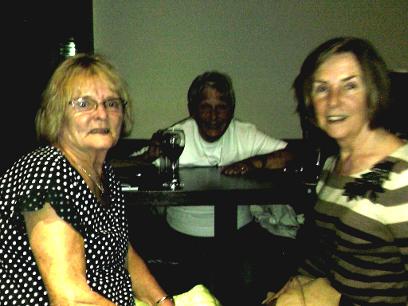 At the Launch Bernadette Aylward O'Donoghue, Anne Lowndes Lawler & Annette Brangan Deegan.
NATIONAL HERITAGE WEEK 2017.
Talk on the plaques at St.Colmcille's Church, Swords .
Congratulations to Maria Hoey whose book is now on sale. Perhaps you might like to follow in her footsteps by entering your story or poem in this year's competition. email: swordsmuseum@gmail.com for entry form and particulars.:
We have been having a particularly busy time with all the 1916 commemorations in the Fingal area. In our own group at least four members are sons and daughters of veterans of the Rising. Some twenty six people buried in St Colmcille's Graveyard in Swords were involved in the Fight for Freedom in the Battle of Ashbourne or in Dublin City at the Mendicity Institute. Various pictures on this page show descendants of these brave men and women participating the the various events organized by Fingal Co. Council and other local groups.
At present our members are finishing research into those buried in the graveyard and it is hoped to present a video relating their history later on in the year.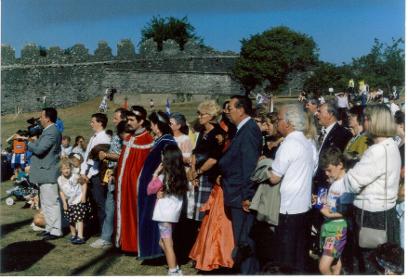 Swords Town Twinning 1991 with Ozoir le Ferriere in France.
SWORDS HISTORICAL SOCIETY members were saddened at the death of Mrs. Margaret Thorpe who was active in the society since it began in 1982. She died on August 25th aged 93 years. A stalwart of our group, always ready to help where needed; she is sadly missed by the community of Swords.


SWORDS HISTORICAL SOCIETY is 30 years old this year.
It began at a meeting of likeminded people in March 1982 at Swords Old Borough School. Many people have volunteered over the years and the Society is responsible for spearheading many projects of a heritage and cultural nature in the greater Swords area. Swords Museum, Genealogy Project and Oral History Projects to name just a few. The Swords Voices series now in its 19th years will be published. The Society plans to have a'Bumper'edition to celebrate 30 years, so if you have a tale to tell, a photo to loan or donate, they would be delighted t hear from you. Why not records your memories of 'old Swords' for posterity?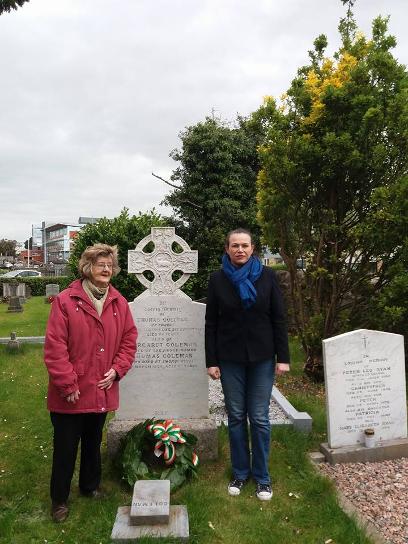 Sinn Fein Wreath Laying, April 2017 at Coleman Grave, Swords Graveyard.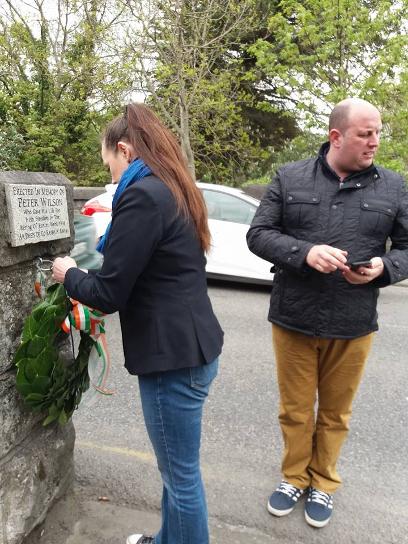 EASTER 2017: Louise O'Reilly, TD.,Cllr. Philip Lynam,
Sinn Fein, wreath laying at Peter Wilson Plaque, Swords.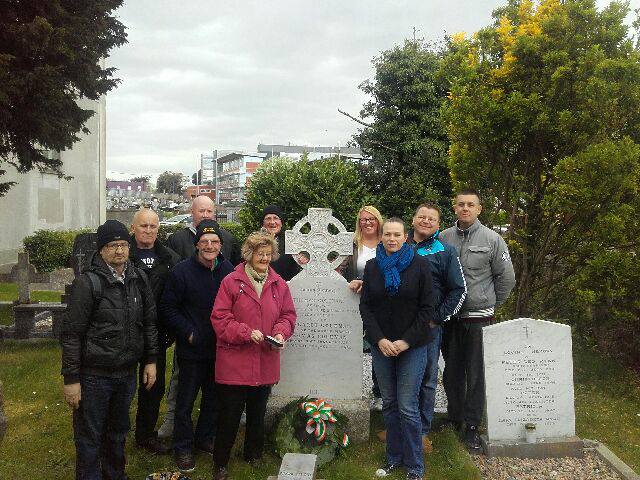 Sinn Fein Wreath Laying, April 2017 at Coleman Grave, Swords Graveyard.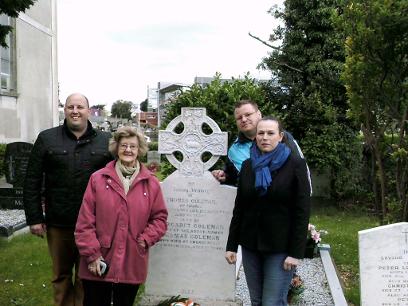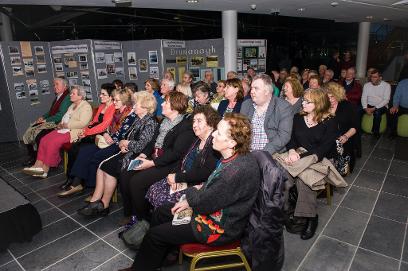 Crowd at Launch of Fingal Heritage Network Exhibition
19th April 2017.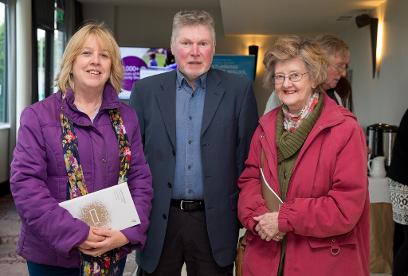 Geraldine McGovern, Myles Reilly, Berni Marks
at launch of Creative Ireland Fingal 24th April 2017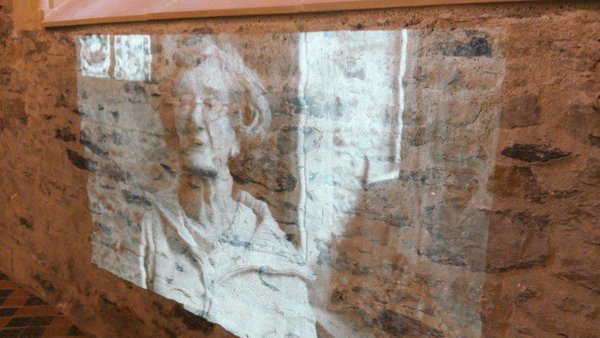 The Ghost of Swords Castle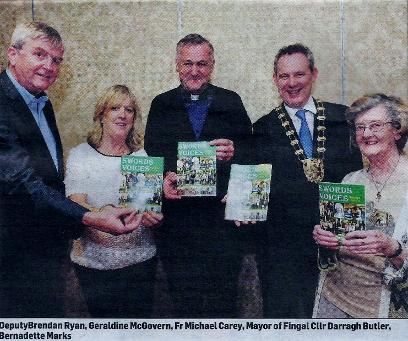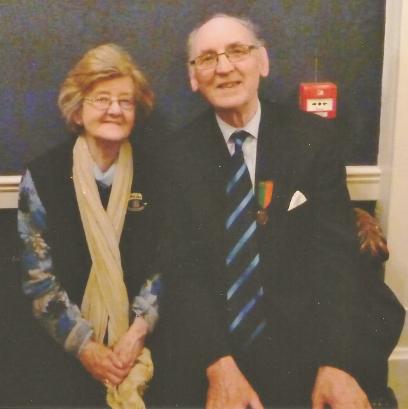 EASTER RISING COMMEMORATIONS: Tom Seaver & Bernadette Marks at State Reception, Dublin Castle Easter Sunday 2016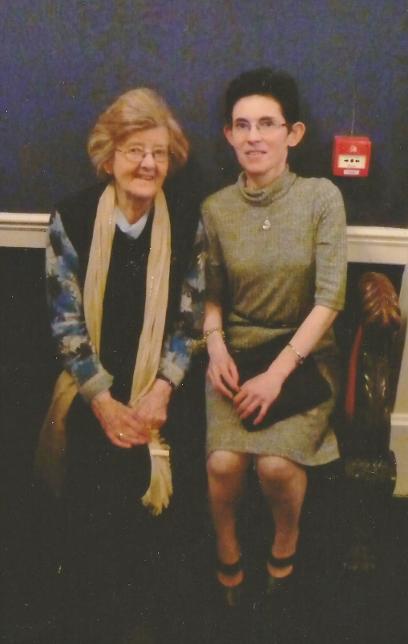 BERNADETTE MARKS & MARY NUGENT at Dublin Castle, Easter Sunday 2016.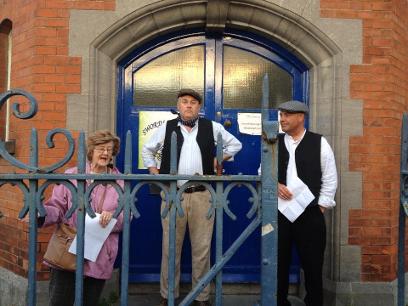 Enjoying the Walk about Swords - 'Architectural Gem' in background (North Street).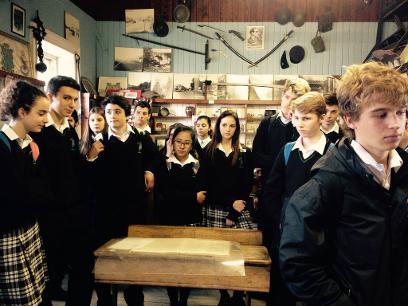 Pupils of Fingal Community College, Swords visiting our Museum Oct. 2015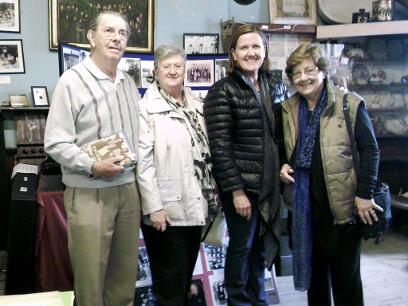 Visiting today were Margaret Bermingham Moran from Australia. Margaret left Swords some years ago to settle in Australia was accompanied by her daughter Mary who flew in from Chicago. Margaret was reminded of old times by our collection of photographs. Brother Leo and Elaine also came along.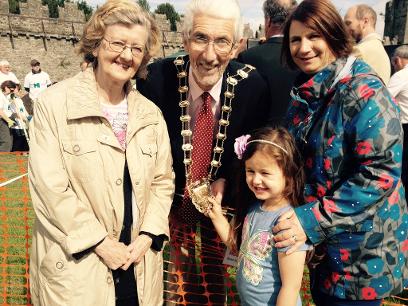 Launch of 'Swords Castle-My Castle' Community Archaeological Dig, Sept,2015,
Berni, Sylvia & Aly with Mayor of Fingal, Cllr. David O'Connor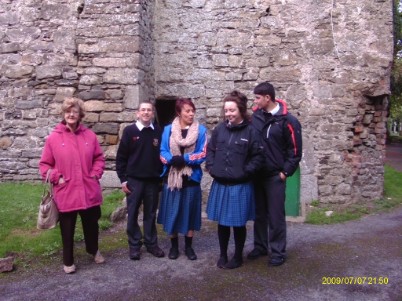 A WALK AROUND HISTORIC SWORDS…Pupils of St.Finian's College. Swords with their teacher Anne Chadwick, recently visited St. Colmcille's Well, St.Columba's Towers, and Swords Castle, where they were given a short talk by Swords Historical Society member B. Marks. They were most interested in learning about St. Finian as their college is named after the local Saint.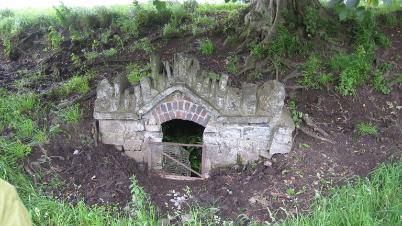 St. Catherine's Holy Well on the farm of Mr. John Ward of Fieldstown.
The area was the original homestead of the Norman family of De la Field.
The Well was venerated from the year 1321 until the late 19th century.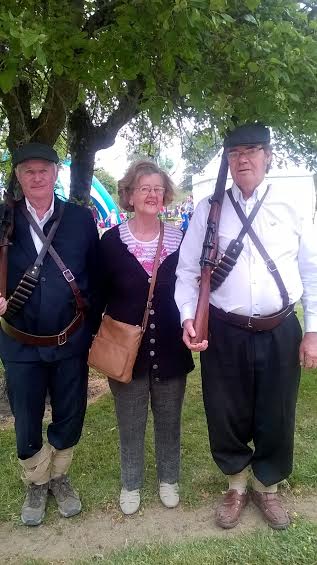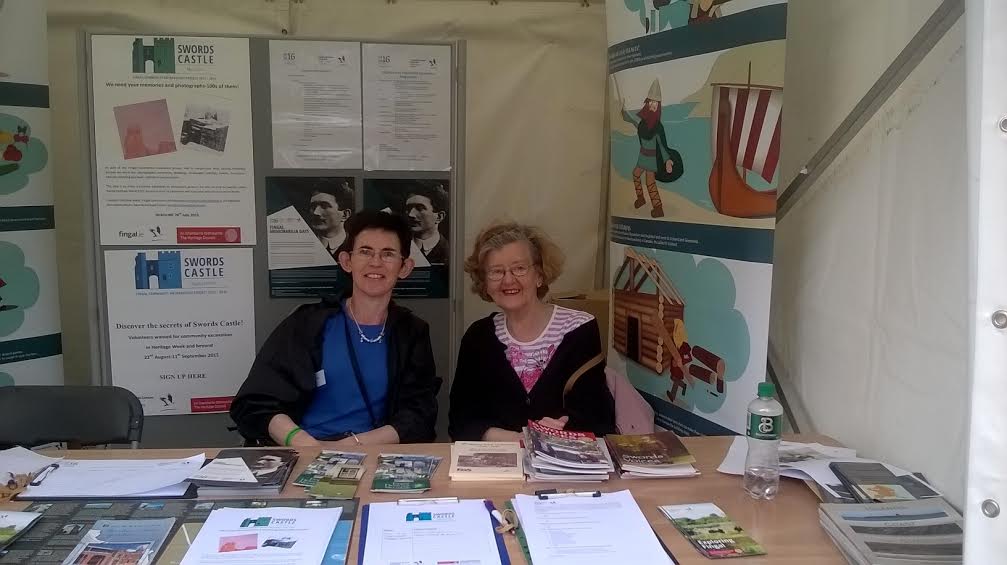 Mary Nugent and Bernadette Marks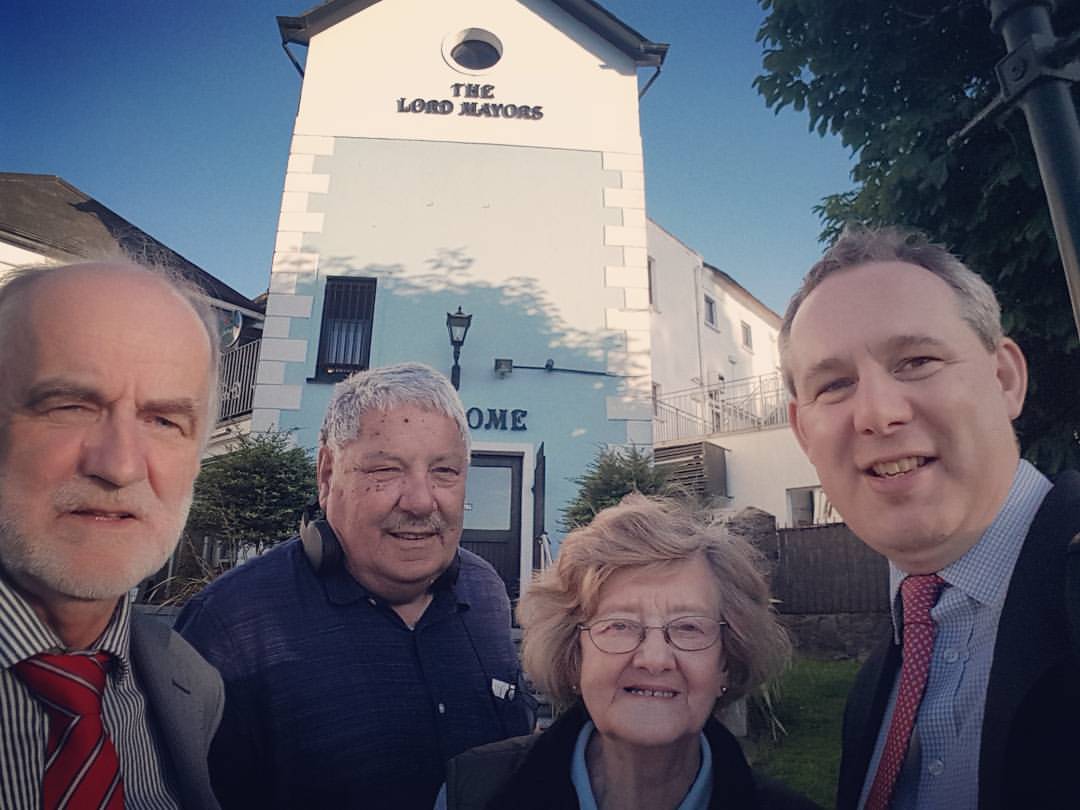 Working on video on The Swords of today were
Jim Bennett, Jim Hawkins,Berni Marks, and
Mayor of Fingal, Darragh Butler.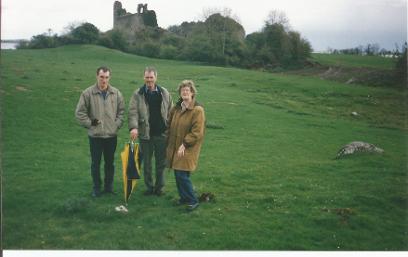 Copyright (C) 2011 Swords Historical Society Ltd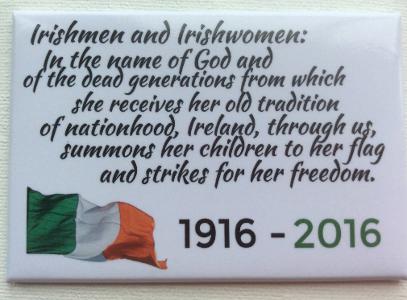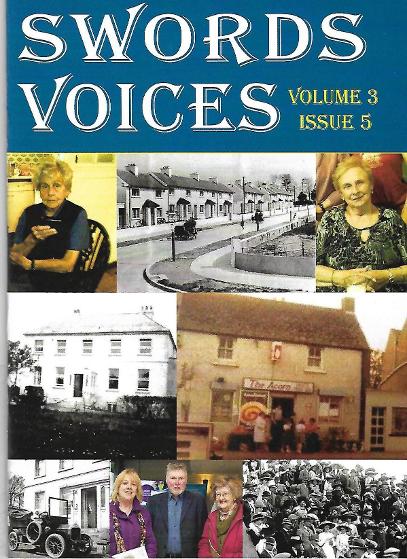 The current issue of Swords Voices 2018 is now available at The Card & Party Shop, Main Street & Swords Museum, Carnegie Library, North street Swords. Phone (01) 8400080. A great read @ €5.00. Read about the Swords of yesteryear.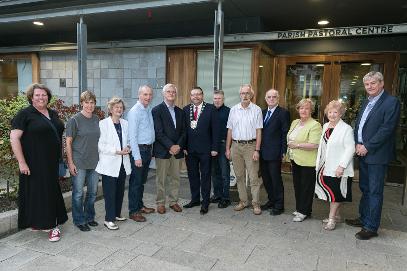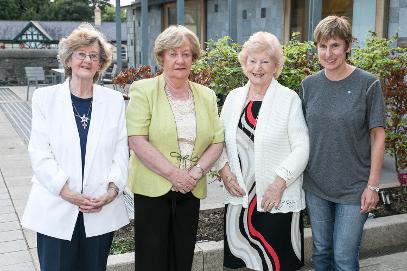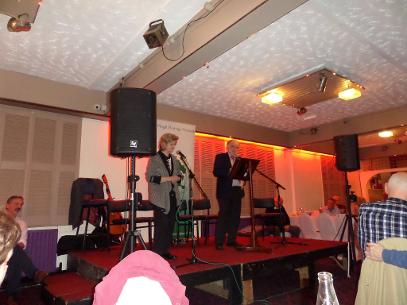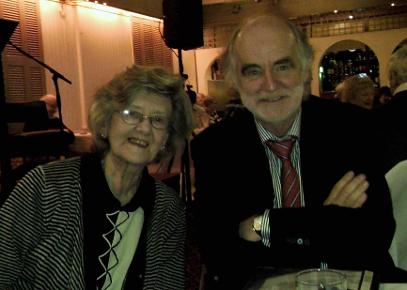 Fingal Heritage Network's annual Culture Night at The Milestone Balbriggan
on Friday 13th Oct. 2017. 10 local societies contributed to the entertainment,
including Swords. Jim Bennett & Bernadette Marks presented tales from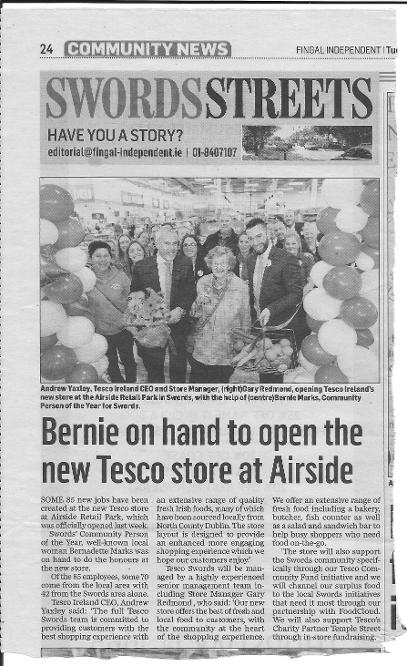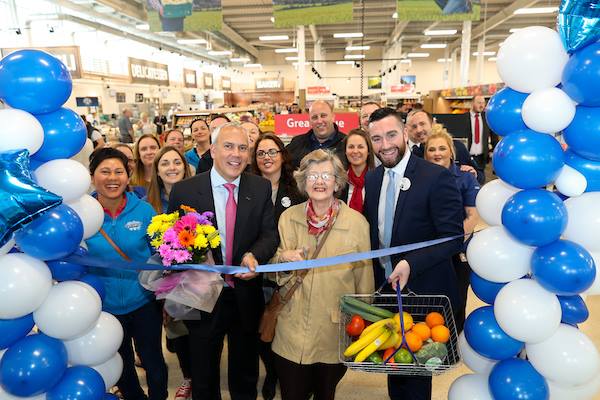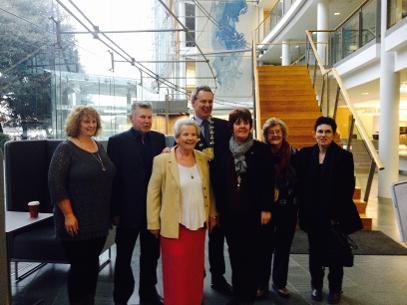 Fingal Heritage Network Launch of Exhibition: Bernie Kelly (Balbriggan), Myles Reilly (Cloghran),
Una O'Brien (Rolestown), Cllr. Grainne Maguire (Balbriggan), Berni Marks & Mary Nugent (Swords),
with Mayor of Fingal, Cllr Darragh Butler.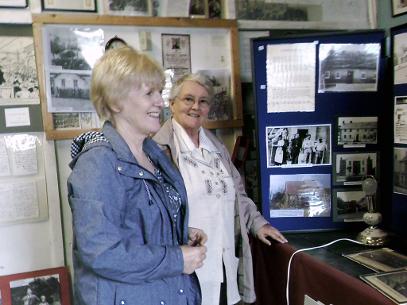 National Heritage Week 2017; Visiting Swords Museum,
Sister Peter Coleman & Patricia Larkin, niece and grand-
niece of Richard Coleman, local 1916 hero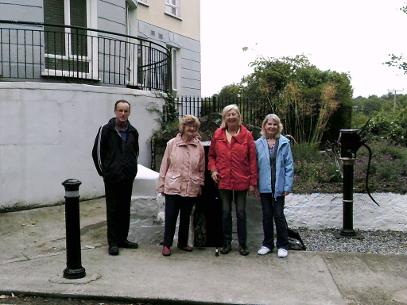 Visitors at St Colmcille's Well,,
where Swords got its name.
Swords Heritage Week 2017: ,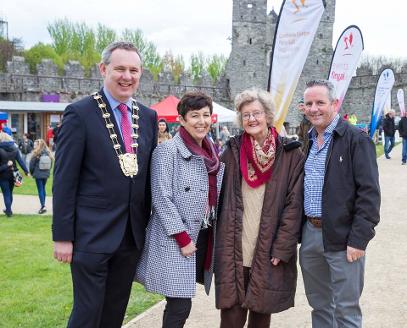 Mayor Darragh Butler, with Margaret Geraghty, B. Marks and CEO Fingal Co. Council, Paul Reid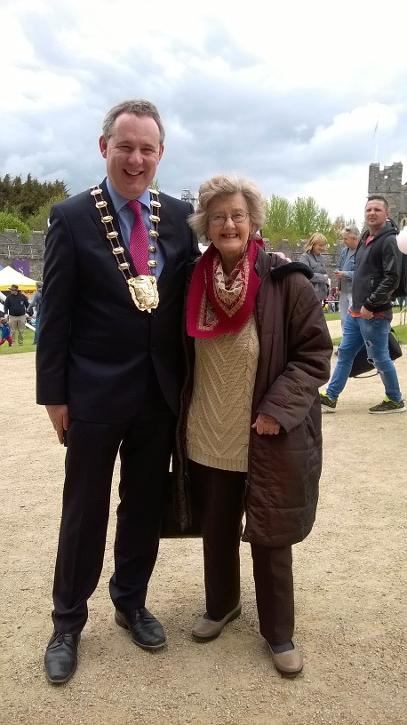 Mayor Darragh Butler and Bernie Marks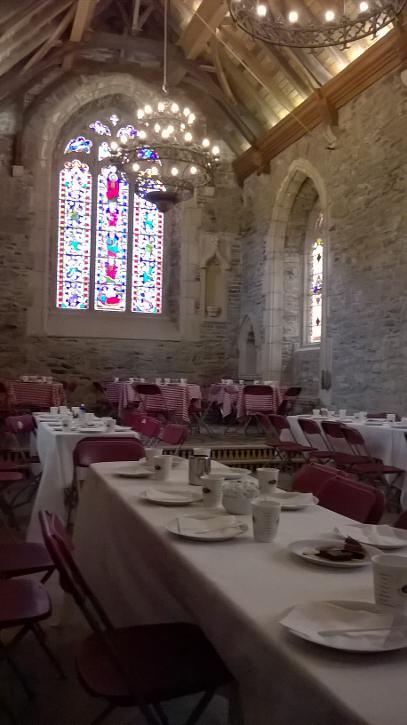 Restored Chapel in Swords Castle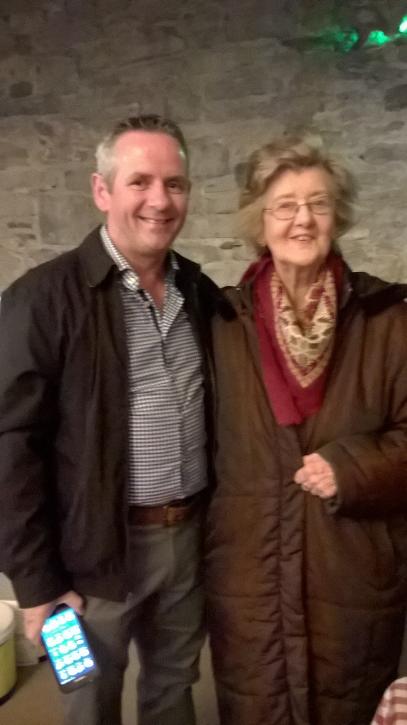 Easter Market Swords Castle, Berni Marks, Paul Reid, CEO
Fingal Co Council.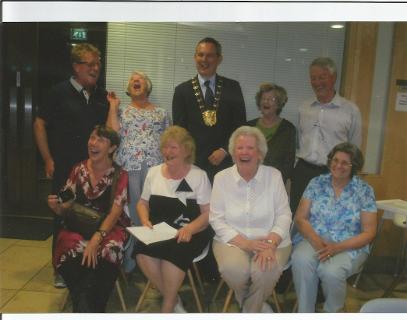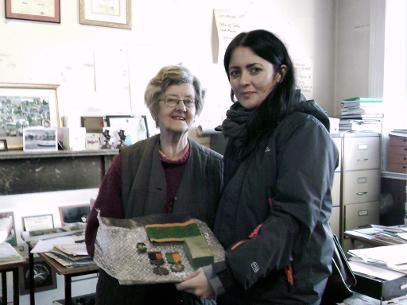 Easter 2016: B. Marks showing her father's1916 memorabiloia to
her cousin Elaine Fitzsimon; preparing for exhibition.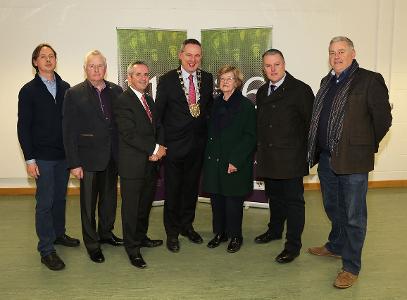 Launch of 'Fingal's Finest' Fingal Co.Council's film
about The Battle of Ashbourne - December 2016 at
Driocht, Blanchardstown.
Video to the memory of Richard Coleman Swords who died for Ireland on the 9th Dec 1918 in Usk prison Wales,
The Two Bernies From Swords to Gortahork 1952
Video Swords in to Europe 1991, When Swords twinned with Ozoir La Ferriere France
Ramble through Swords in 1985, With Bernadette Marks
National Heritage Week 2015: Walk about St. Colmcille's Graveyard, Swords,
visiting the graves of some interesting 'characters' and 'heroes'
Swords 1916 Connection, Walk about St Colmcille's Graveyard 28th Aug. 2016.
Walk about historic Swords; Swords Historical Society introducing Swords Tidy Towns members to some 'hidden history'.
.
Visiting St. Columba's Graveyard, Swords,
Swords and its People in photos old and new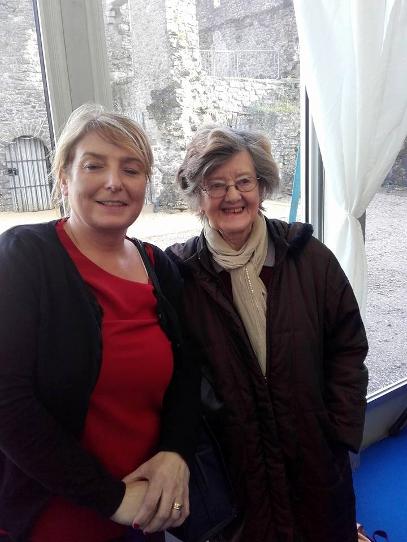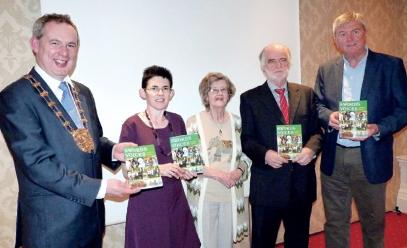 Launch of the 23rd Swords Voices lst Sept 2016. Mayor of Fingal,Cllr. Darragh Butler, Mary Nugent,
Bernadette Marks, James Bennett, Brendan Ryan T.D. at Carnegie Court Hotel.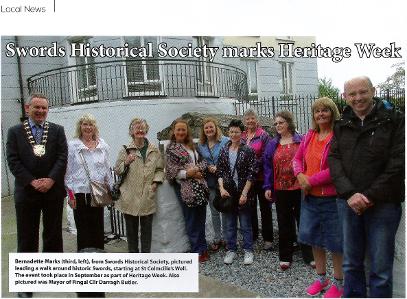 Photo, Swords Local Oct. 2016.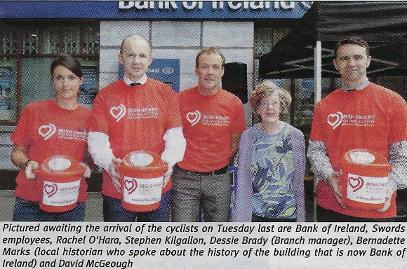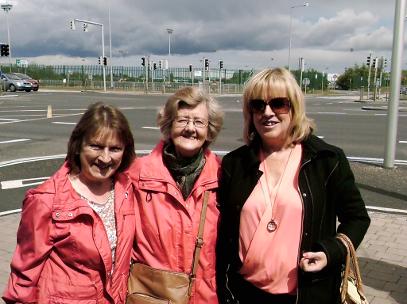 Mary McDonagh,Berni Marks, Geraldine McGovern
At unveiling of plaque from old Cloghran School May 2017.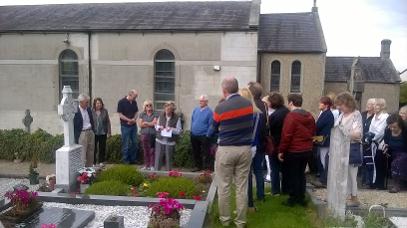 Walk about St Colmcille's Graveyard 28th Aug. 2016.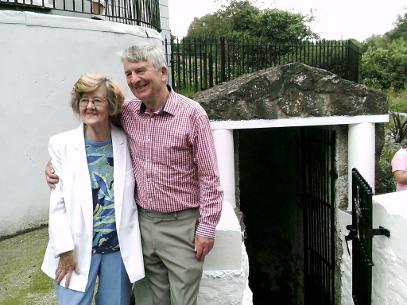 Summer Fest at St Colmcilles Well: Cllr Joe Newman, Berni Marks.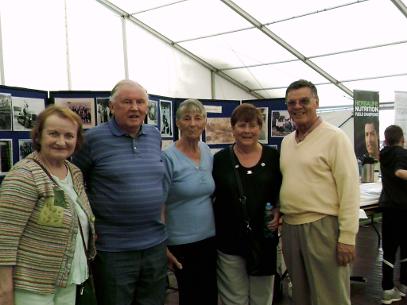 Our Stand at Swords Summer Festival July 2016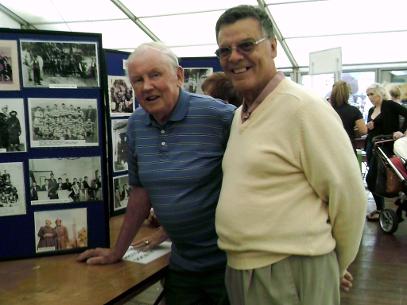 Viewing old photos at our stand; Swords Summer Fest 2016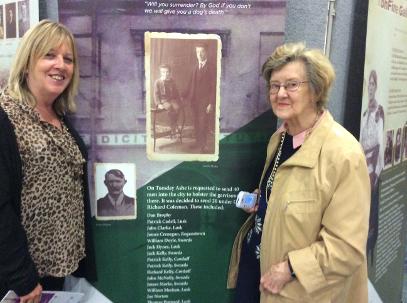 Geraldine & Bernadette at memory Makers at Plaza Hotel.
Part of Fingal Co. Council's 1916 exhibition. Pic is of Bernie's father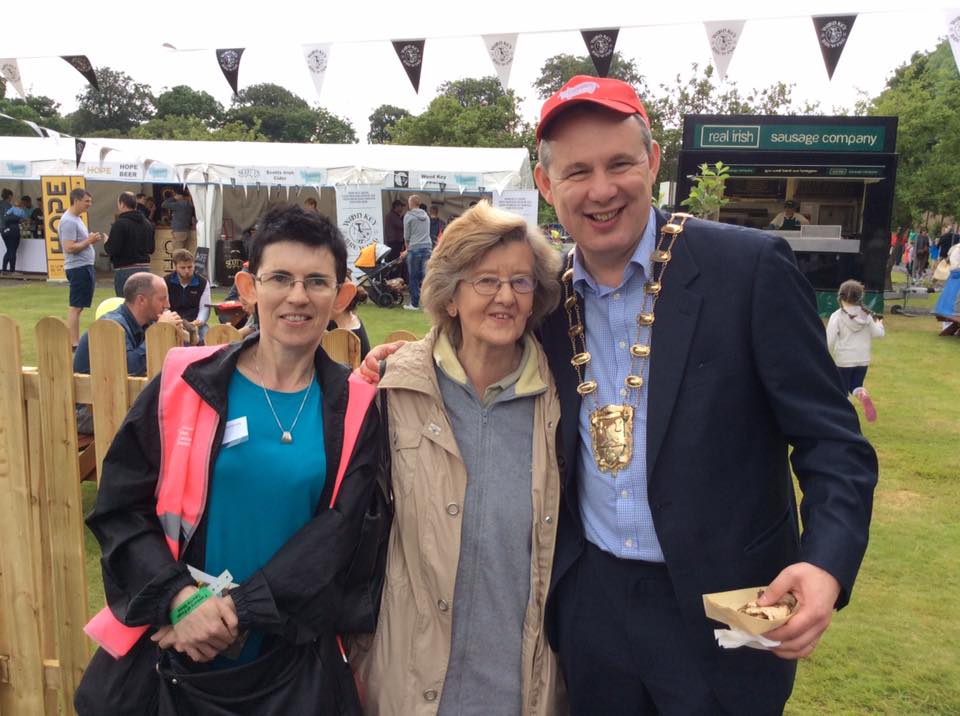 Mayor of Fingal, Darragh Butler with Berni & Mary
Flavours of Fingal 25-6-2016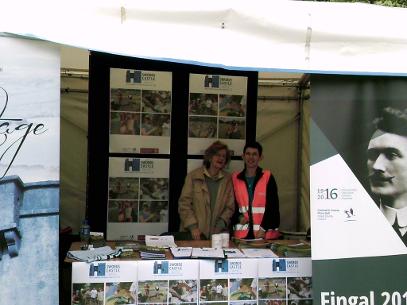 Bernadette and Mary, At the Flavours of Fingal at Newbridge House on Saturday; everyone seemed to be enjoying the day.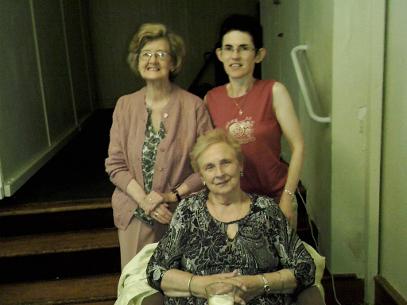 Berni Marks, Mary Nugent, Mary Lowndes at Fingal Heritage |Network Culture Night in Skerries 10th June 2016.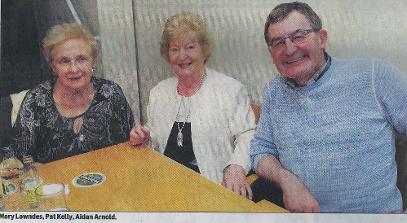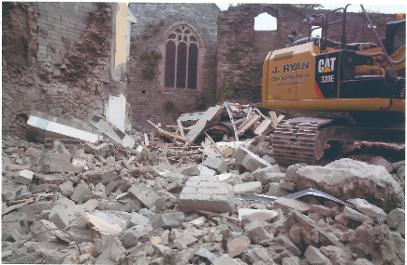 Swords Castle; demolition of houses at Castle walls; a view never seen for a long time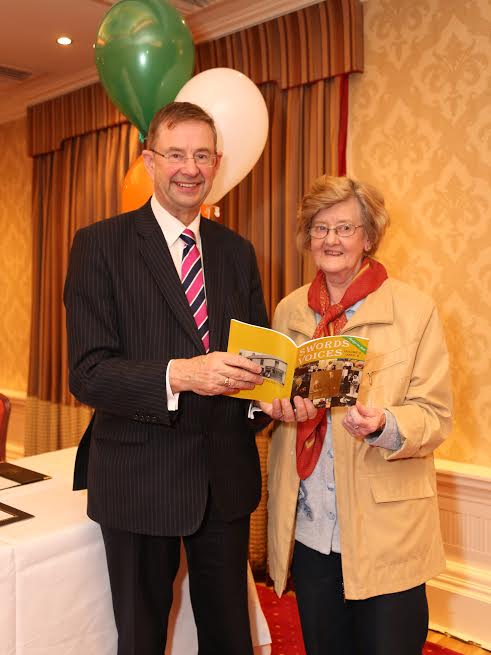 Bernadette Marks presenting Swords Voices to Eamon O'Keeffe,TD
her father was in jail with his grandfather Eamon De Valera 1916.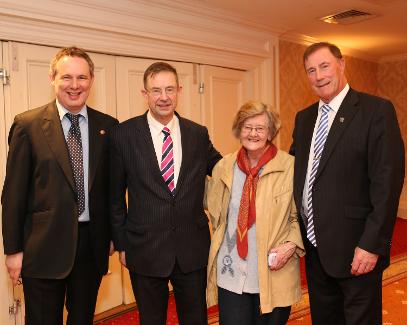 1916 Commemoration Night -Fianna Fail in Swords - Cllr Darragh Butler, Eamon O Caoimh, TD., B. Marks, Michael Kennedy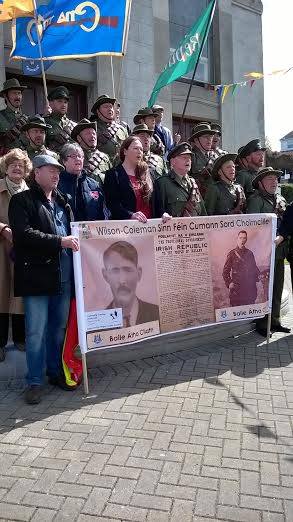 Sinn Fein Wreath Laying Ceremony at St. Colmcille's
Graveyard, Swords, March 2016.Over 25 veterans of
1916 Rising buried there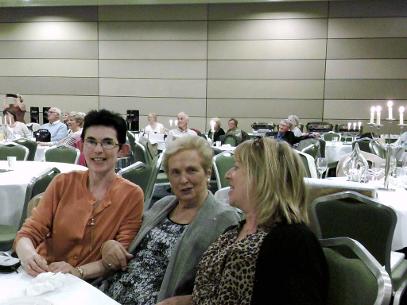 Mary Nugent, Mary Lowndes, Geraldine McGovern at Memory Maker 2016.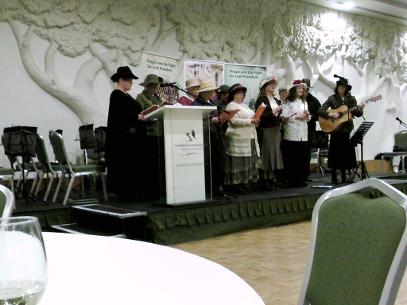 Tower Singers, Portrane at Memory Makers.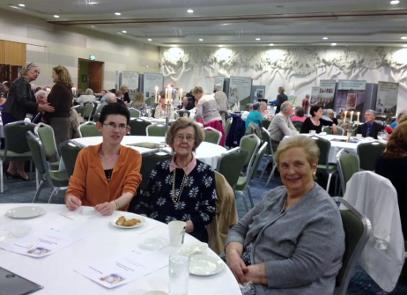 Photos at Memory Makers Mary Nugent, B. Marks, Mary Lowndes.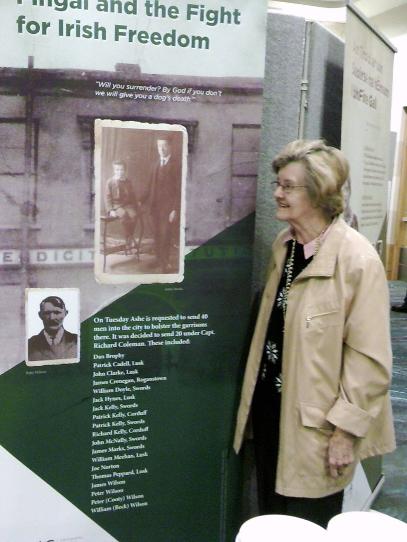 Bernadette Marks admiring the 1916 exhibition which
included her father's photo.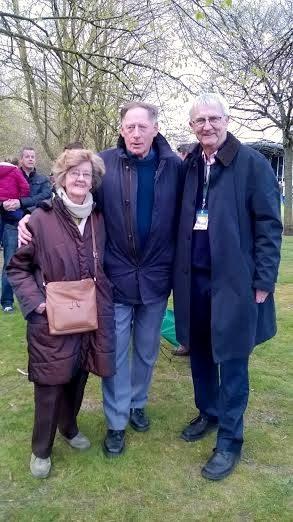 B. Marks, Joe Condron & Sean Ryan enjoying the many events organized by Fingal County Council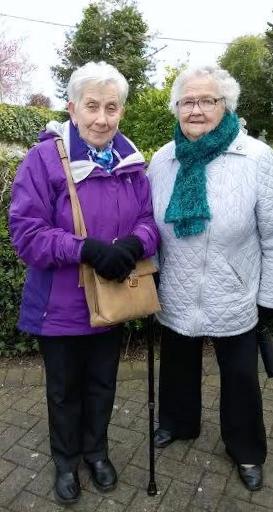 Sisters Nora Agnew Rogers and Kathleen Agnew Markey at Wreath laying ceremony St. Colmcilles.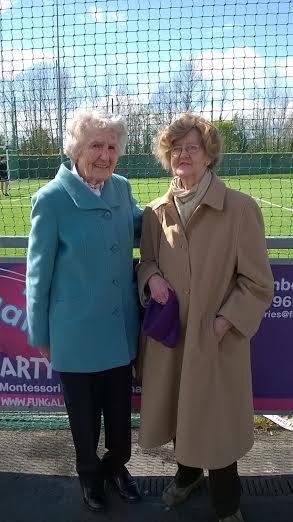 Maureen O'Scannaill, Berni Marks at unveiling of 1916 memorial at Fingallians GAA,Swords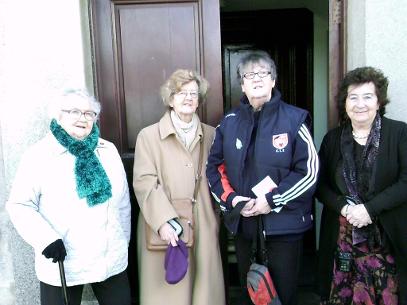 Three daughters of 1916 veterans; K.Agnew Markey, B. Marks, & Caith Cheallaigh with Mary Watson.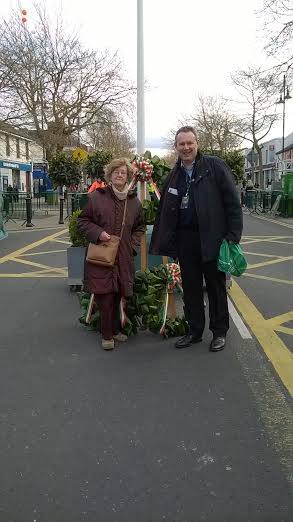 Bernadette Marks and Cllr Darragh Butler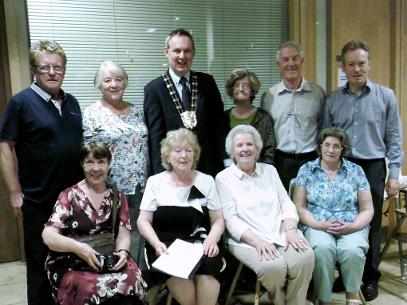 Fingal Heritage Network Members with Mayor of Fingal, Cllr Darragh Butler at 'Fingal in10 Items'
24th Aug. 2016. (Heritage Week) At St. Sylvester's Parish Centre, Malahide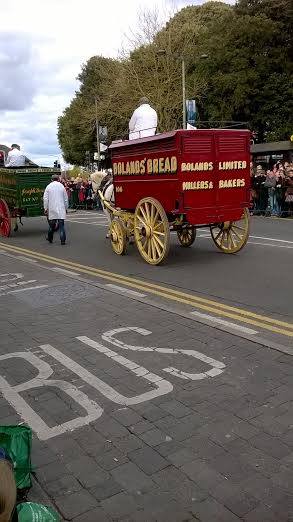 Horse Drawn Bread Van in 1916 Parade in Swords, a reminder of an incident in 'The Rising' when Volunteers commandeered a bread van on Swords Main Street and took all the bread with them to Donabate.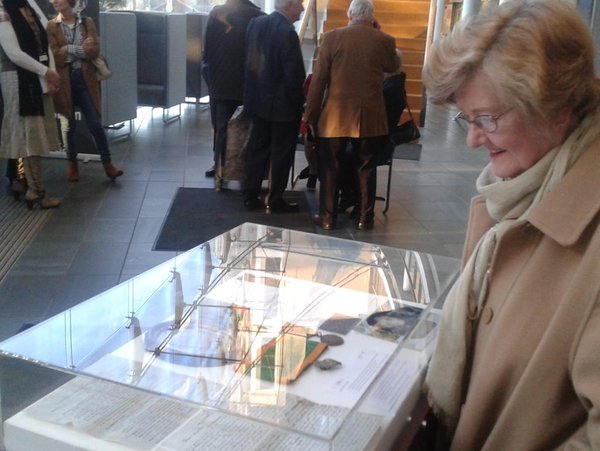 Fingal County Council's 1916 Exhibition - B. Marks looking at her father's memorabilia in the exhibition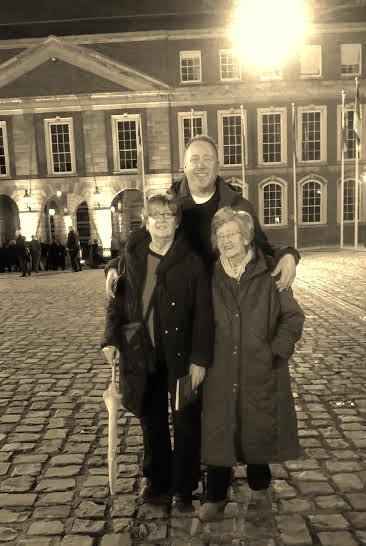 State Reception, Dublin Castle Easter Sunday 2016.
Caith Ni Cheallaigh, Berni Marks, John Kelly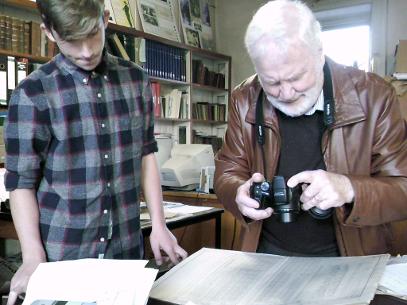 Arran from Fingal Community College, Swords helping Emmet Wilson trace his ancestors in old school roll books at our centre; Emmet has done extensive family research with the help of rootsireland.ie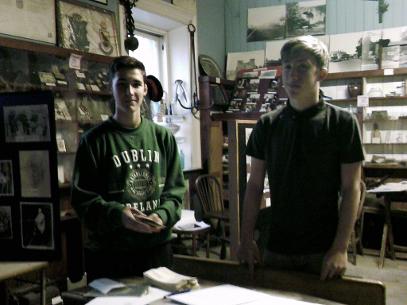 David and Arran from Fingal Community College helping to catalogue items of a genealogical nature in Swords Museum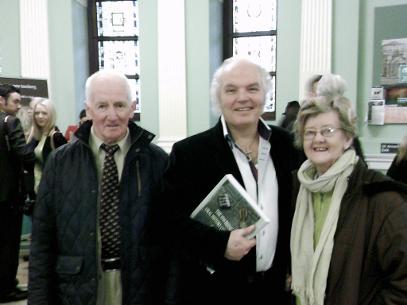 Presentation of Life & Lore 1916 Oral History to National Library;
Liam Heron, David Agnew, Berni Marks.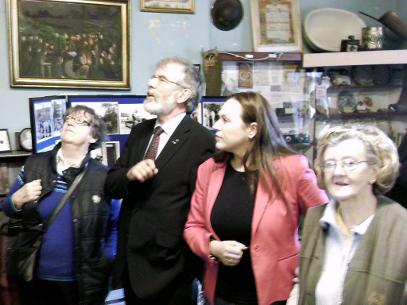 Sinn Fein's Gerry Adams dropped into Swords Museum while on a ramble through Swords to view their 1916 exhibition. Also in pic Caith Ni Cheallaigh, Loiuise O'Reilly (Sinn Fein) and Berni Marks.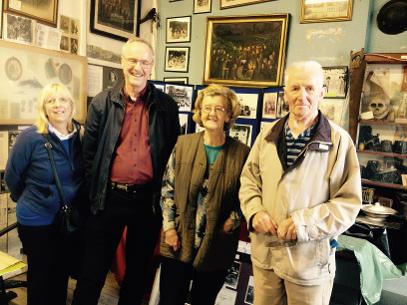 Brendan & Jane Wilson from Bermingham visiting Swords Museum with his cousin Liam Heron from Swords. Brendan's family were originally from Drynan.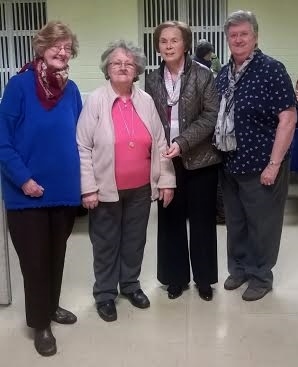 Sword Historical Society visiting Swords I.C.A, keeping them up to date with the history of the area.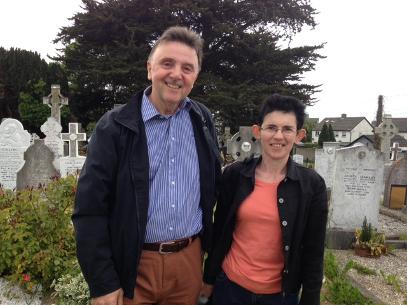 Robert
Tomlinson
from Yorkshire traced in Gannon roots to Swords where he met a third cousin, Mary
Nugent
for the first time. Mary's mother is a Gannon while Robert's grandfather was James Gannon. Seen here last June visiting grave at St.
Colmcille's
Swords.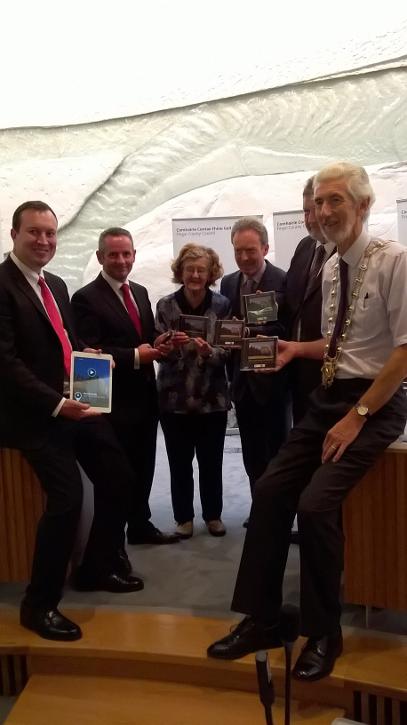 Swords Heritage Week 2015: Launch at Fingal County Hall of Swords Heritage Trail;Neil Jackman,Abarta Guides, Paul Reid, CEO Fingal Council, Berni Marks, Swords Historical Soc., Gerry Clabby, Heritage Office, Minister James Reilly, Mayor of Fingal David O'Connor.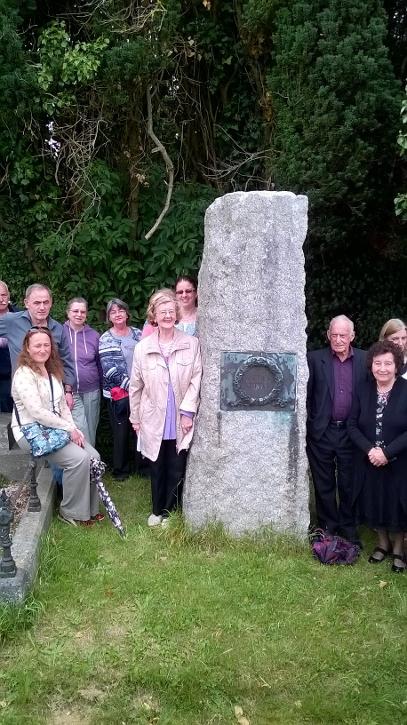 Walk around St.
Colmcille's
Graveyard, Aug. 30th. Pic at Monument to A.J.Kettle, known as Parnell's Right hand man' and father of Tom Kettle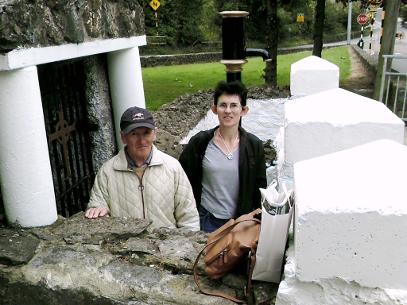 Mary & Liam visiting St Colmcille's Well where Swords was founded in 560 AD.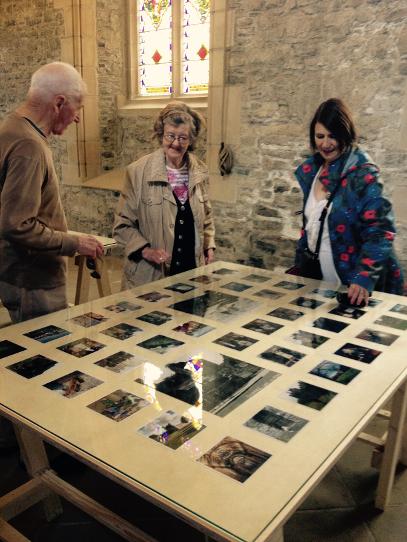 Swords Castle Archaeological Dig 2015; Liam, Berni & Sylvia admiring the photographic exhibition in the Chapel of the Castle.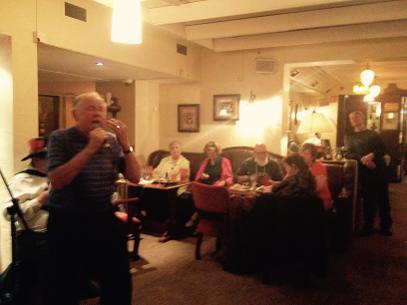 Launch of 22nd in the Swords Voices series. Paddy Gerrard one of the contributors singing a song. The Star, Swords.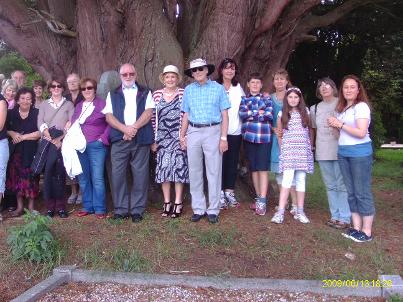 Group at walk about St. Colmcille's Graveyard Aug 31st.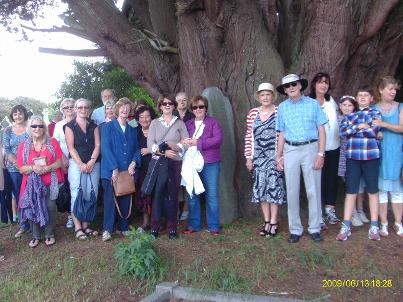 An excellent turn-out for the walk about St. Colmcille's Graveyard, Swords on Aug. 31st last. They listened to the many stories from the headstones, and were fascinated by the huge tree that has grown over a headstone.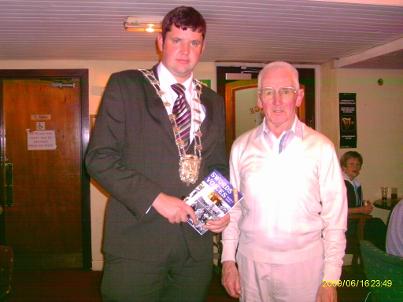 Deputy Mayor of Fingal, Cllr. Ted Leddy
at the launch of the 21st in the Swords Voices
series. With Liam Heron at The Star during
Swords Heritage Week.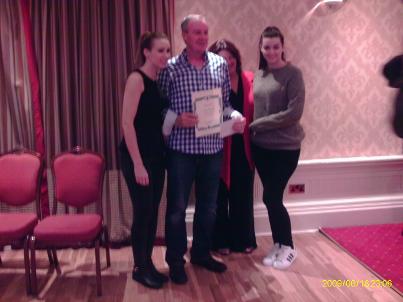 Michael Burke, Lusk, 2nd Prize Winner in
Poet of Fingal Competition, 2014..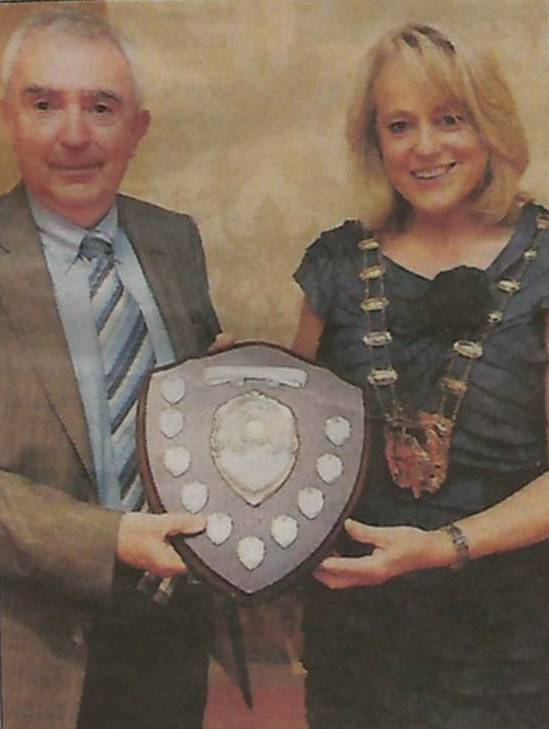 Swords Heritage Week 2014: Paddy Ryan, Malahide came first in Short Story Competition: Mayor of Fingal, Cllr Mags Murray presents him with The Tom O'Shea Trophy.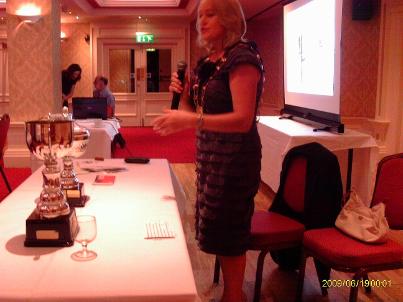 Mayor of Fingal, Cllr Mags Murray speaking at Swords Heritage Week 2014 Literary Awards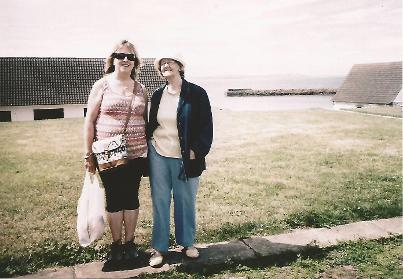 Tour of St Columba's Graveyard, With Bernadette Marks, Swords Historical Society.

Gearldine and Bernadette on a trip to Lambay Island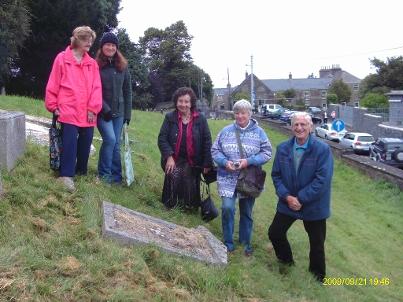 On the high Seas, Bernie And Phil on their way to Lambay Island.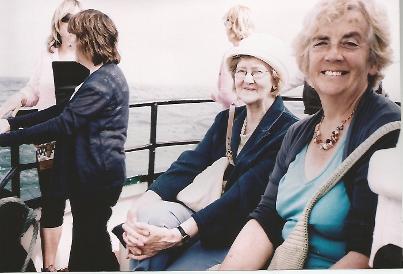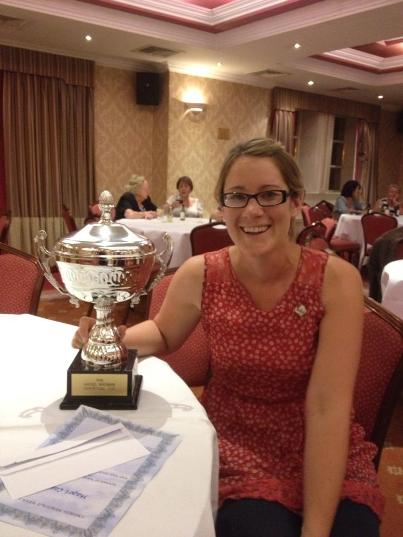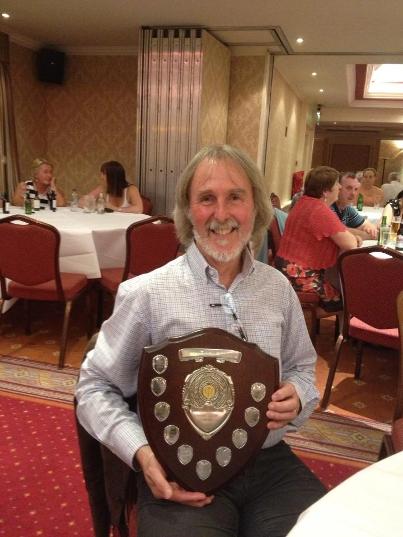 The Lock Out 1913, With Declan Brady, Bernadette Marks,Brian Simpson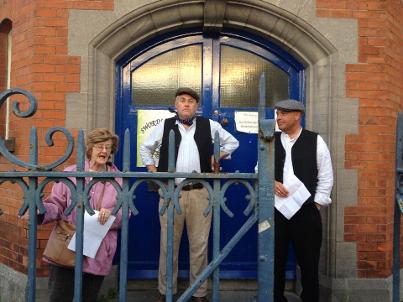 The late Tommy Murray from ~Trim, who won the Poet of Fingal Competition 2010 & 2011.
.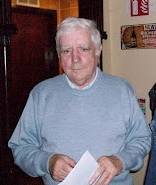 PADDY SAVAGE, Chicago – winner of the Swords category in Literary Competitions .Swords Heritage Week, He holds the Bridget Browne Trophy for a year, sponsored by Mrs Mary McCormack, Tara Winthorp Clinic, in honour of her late mother.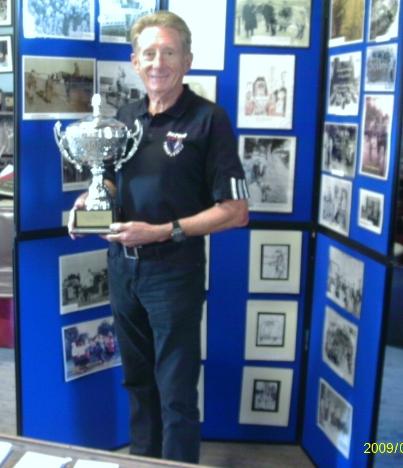 Des Becton, Swords Tidy Towns, Bernadette Marks, Paddy Savage in Swords Museum.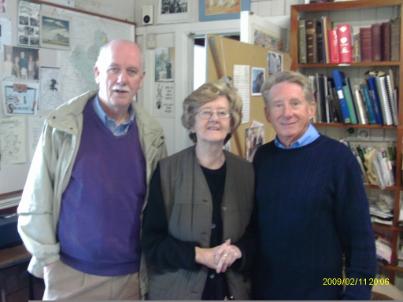 ENJOYING THE LITERARY AWARDS 2012:
Geraldine McGovern. Runner-up Swords Section, Geraldine O'Dowd
& Maureen Cullen who were short listed in Short Story Contest.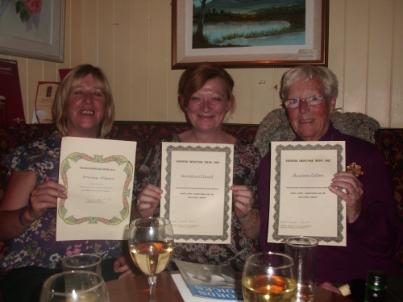 HISTORICAL WALK with Swords Tidy Towns:
Bernadette Marks, Monica Fitzsimon, Alexandra Dermody
at the grave of United Irishman, John Sweetman.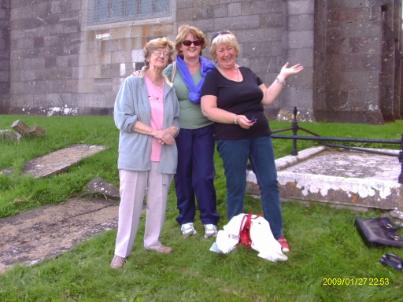 Trip to Lambay Island 2014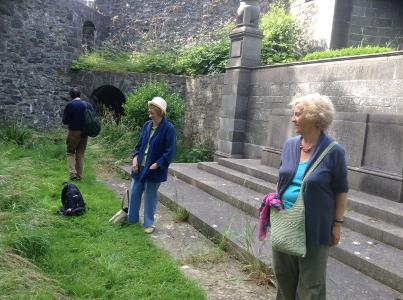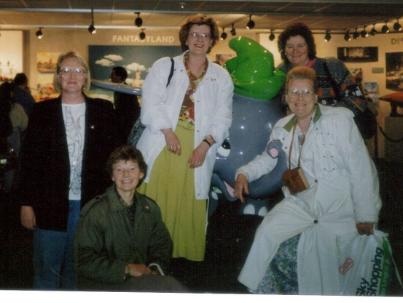 EURO DISNEY1991: Swords Town Twinning with Ozoir le Ferriere,
P. Archbold, J. Hunt, RIP., B. Marks, E. Monaghan, T. Beades.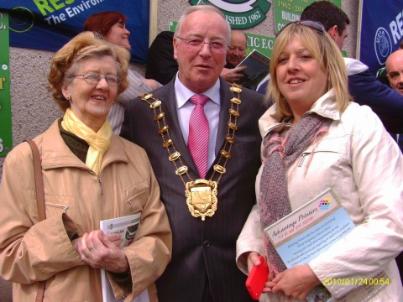 SWORDS CELTIC 50th Anniversary 2012: B. Marks, Mayor of Fingal, Cllr. Gerry Maguire,G. McGovern.
Mr Trapotoni, G. McGovern, B. Marks.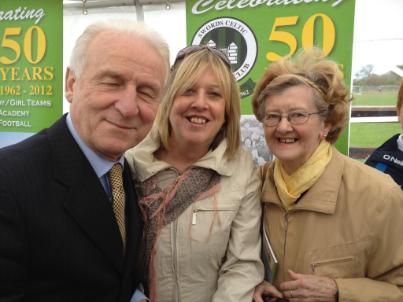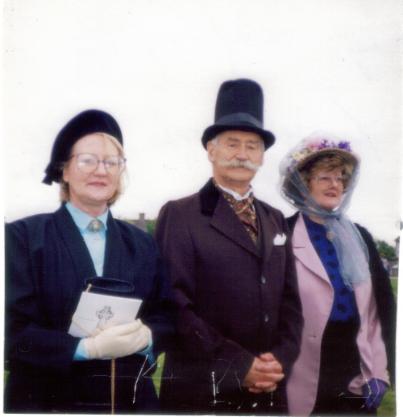 100th Anniversary Dublin/Drogheda Railway 1990s. Raheny Historical Society.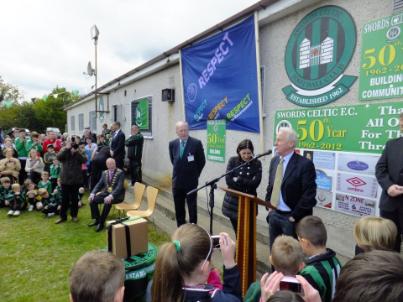 Swords Celtic with Mr. Trapotoni.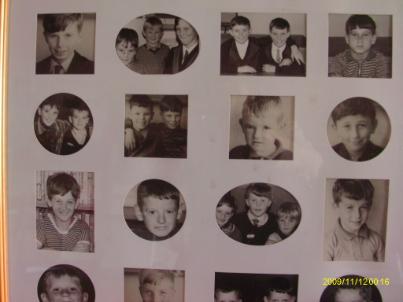 Boys from St. Colmcille's Boys' School 1969/70.
Photographs Copyright Swords Museum (C) 2016

Copyright Swords Museum (C) 2016